Artists
Unique Rubber Stamps – Get to know AHC McDonald
A lack of space for a press and a book picked up by chance led Western Australian comedian and photographer AHC McDonald to take on the neglected medium of rubber stamps, often taking his unique state prints to an extreme level.
Unique Rubber Stamps
by AHC McDonald
Look, I have to tell you first that rubber stamps are not well suited to printing anything larger than a card. In fact, they are terrible things to use in almost every way!
If you do multiple color layers – and some of my pieces will have elements using dozens and dozens of overprints, they are almost impossible to register. Or if you want to ink the stamp with multiple colours for a single impression, then you will contaminate your stamp pads with other colored inks. You have to wash and dry the stamp for every colour change. And if you use archive inks which I prefer for their subtlety and transparency, (rather than pigment) they dry on the stamp in barely five seconds. Five. Seconds. So you have just a moment to ink the stamp, find its place in the composition, also maybe try to register it over a previous impression, and slam your fist down on it. There is no time to even pick up a baren or roller. Ink it, place it, and smash it. It's incredibly easy to make a mistake, and quite possible to ruin a piece on the last one of perhaps thousands of impressions, leaving you with a particular blank stare and a wasted piece of $40 French paper.
---
The following space is not part of the guest artist's text and is used for promotions and advertising. For more information check our Affiliate disclosure.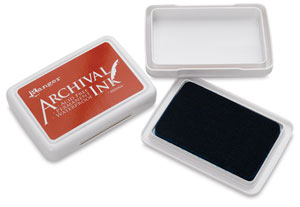 Ranger Archival Inks produce lasting results in a classic palette of rich, fade-resistant, water-resistant colors.
The inks are acid-free, non-toxic and permanent on most paper.
---
Maybe that's why I don't see many people printing as I do.
And yet, and yet. It is through restriction that creativity has to arise is it not?
The unpredictability between stamp, ink and paper can create a pleasing and disconcerting mix of simplicity and sophistication. Simple stamps in an elaborate composition with each element telling its own possibly conflicting story is what I try to achieve. I do create some simple pieces, but mainly it is the composition skills learn from three decades of film photography that is most important.
I was killing time in a bookshop, when I randomly picked up "Rubber Stamping" by English artist Stephen Fowler. The book is excellent and some of Stephen's tips such as using post it notes as masks (genius!) are excellent. But even as I was reading the book, I was thinking bigger than the very small postcard sizes that stamp works are mostly known for. I immediately started planning a 4m wide stamp piece covering the five iconic beaches of my hometown of Perth Western Australia. This was basically the first thing I printed.
---
The following space is not part of the guest artist's text and is used for promotions and advertising. For more information check our Affiliate disclosure. 
This beautiful book provides a complete guide to printing with rubber stamps.
---
I also had the aim to break out of contemporary printmaking themes, which sometimes – in my opinion, can be overwhelmingly decorative. So many incredibly technically skilled works, but not nearly enough that outrage, challenge or disrupt. One of my pieces showing a shark attack (among other things) at Cottesloe Beach had to be taken down from an exhibition, because people objected!
What more could an artist ask for? Our next door neighbor's cat with one of her gifts – a headless rat, hideous flying cockroaches on a hot Western Australian summer night, dangerous selfie taking, vomiting labradors. I see beauty in all these things, and stamps seem to be perfect for showing it.
Beauty, simplicity, composition.
Ink, place, smash.
---
This article was written by Andrew McDonald and all images copyright © ahcmcdonald 2019
You can get to know him better on his website and Instagram.
You can also leave comments to the author below, he will respond as soon as possible.
---
NetworkINK is a social network exclusively developed for printmakers.
---

Hope you enjoyed. If so, please leave a comment.
It's a great help for the project and an easy way to give us a helping hand. 😉
If you don't want to miss our next articles…