Artists
Relief Printing Artists – Get to know Lucie Schreiner
Relief Printing Artists
Get to know Lucie Schreiner
Block printing is a printmaking process that uses as a matrix a wood block, linoleum or some type of material where you can get a relief.
To start the work it is necessary to choose which type of material fits the job you want to develop. All materials have different characteristics that can condition important facts such as the type of drawing, the quality of the print and the number of proofs you want to print.
For my work, I choose MDF (Medium-density fibreboard) because it's easy to find large pieces and because it fitted my work proposal, ensuring the result I want.
MDF is a wood composite (powder and resin) and therefore it is different from wood because it doesn't have veins. Unlike wood, I don't need to sand it, just pass a few layers of shellac.
After preparing the block, you have to make your drawing. This can be done directly in the block, or transferred with carbon paper, bearing in mind that the design must be inverse, so the impression is in the correct position when printing. This is a basic feature of printmaking where the image is shifted sideways and the content recorded on the right side of the block when printed is located on the left side of the paper.
After finishing the design, you may start the cutting process. You need special tools such as gouges or burins. Cut only what you don't want to be printed. The work done on the block is the basis of all the work and to master the engraving technique requires a lot of persistence and patience.
---
TOP Printmaking is an affiliate of several programs, meaning that if you purchase something through our links, the project may get a small percentage cut of the overall sale. For more information check our Affiliate disclosure.   

Pfeil Tools are high quality Swiss made carving tools suitable for either lino or wood cutting.
Each tool is made from chrome vanadium steel, precisely forged, sharpened and polished for excellent results. Palm-handles are made of hardwood from ecologically managed Swiss forests.
Full bolster and square tang for optimal stability. Internal steel ferrule under bolster prevents the handle from splitting. Tools are hardened to the edge of the bevel. Blades electronically hardened to exacting tolerances.
These tools can be found in different sets or bought one by one in order to make a set more suitable for you.


PFEIL: LINOLEUM AND BLOCK CUTTER SET OF 6: SET D

Or…
---
The inking process is made with a Roller or Brayer. The ink should be mixed in a glass plate, stretched with a spatula until reaching the correct consistency. For oil-based ink, you can add Burnt Plate Oil to refine it. If it is very thin you can add Magnesium Carbonate to harden it.
When passing the roller don't overload it. The ink should be uniform and thin and pass through the block in all areas with equal distribution.
The choice of paper that will be used in the printing is also important. Each artist will define what is best for their work; however, it is very important the paper presents adequate weight and neutral pH (acids free).
In block printing, when you are printing with a press you should adjust it according to the thickness of your matrix. You can also print manually with a wooden spoon or with a Baren.
---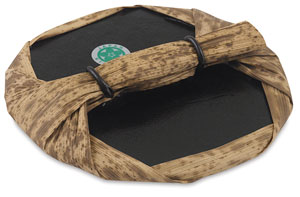 Yasutomo Bamboo Baren
This smooth, light rubbing pad is made of bamboo bark.
Used for woodblock printing, the strong grain of its tough surface allows the artist to convey pressure firmly and efficiently to the paper.
---
The printmaking world is fascinating, all techniques and materials have their charm and power. Among all the engraving techniques, I choose block printing as a form of my expression. Somehow I was attracted to the material and the cutting process. Seeing that flat, dense and blank block gaining expression when furrows are opened in curves, lines, dots, creating diverse textures, enabling the creation of details in a magical contrast of light and dark. It's like magic.
In order to add color to the print, image separation occurs in distinct color areas, and different matrices of the same size are used. Each block will bring a single color and is produced so that there is no coincidence of different color areas in the final print,
To achieve the gradient effect I mix the various inks with the roller.
I like to create and carve images that move with the imaginary, which lead to a philosophical reflection on life and its relations. There is a mixture of symbols, beliefs, science, philosophy and imagination, opening veins that create an antagonistic atmosphere where the natural challenges the machine that reflects to a holistic vision of the contemporary world, in the context not only of the mechanization of the environments but also of the being itself, which is not built alone, is built with social and environmental relations. These are the relationships behind the characters' construction present in my prints. The natural elements always insist on mixing with the machine gears, emphasizing that life, although fragile and ephemeral, it is strong, it persists and resists.

I hope you have enjoyed getting to know my work.
It's a huge pleasure to be on this blog that I consider to be one of the best for printmaking artists to show their work to each other.
---
This article was written by Lucie Schreiner and all images copyright © lucieschreiner 2019
You can get to know her on her Facebook.
You can also leave comments below, she will respond as soon as possible.
---

Hope you enjoyed. If so, please leave a comment.
It's a great help for the project and an easy way to give us a helping hand. 😉
If you don't want to miss our next articles…