Reduction printmaking
I came late to printmaking and only then by chance. After taking a degree in visual art and art history, I stopped making art for many years, making a living managing the work of professional photographers instead. It was the offer of an Albion printing press that began my career, but only after a whole year of my refusing this extraordinarily generous gift. I was so sure I could no longer make art that the press had to be dumped on the doorstep before I would begin to work. Once started, I couldn't stop making prints.
The landscape is my subject. I live in rural Buckinghamshire in England. When I lived in town as an art student I worked with architecture and street scenes. Now I work with trees and hills. At present, I work in linocut, but sometimes also with traditional Japanese water-based woodblock. I return to Japan, where I studied the technique, next spring and will be working in Tokyo for a month with three other artists. I hope to explore the captured landscape within Japanese gardens during my stay in the city, returning to woodblock printing.
I always work in the reduction technique with my linocuts, using traditional grey artist's lino and oil based relief ink. Reduction means cutting away the block as the print is created, destroying the lino bit by bit as the image emerges. I never plan my work in any detail other than a line drawing, so I have no idea how many layers a print might need, or a specific color plan when I begin. I much prefer to respond to the print as I work, making the lino bend to my idea of the image rather than making my image fit the medium of linocut.
My tools are a mix of traditional u and v gouges that I inherited from my husband's artist grandfather James Boswell via my mother-in-law and tools I bought in Japan which is more intended for Japanese woodblock carving but work so well with lino. They live in a leather-lined box made by my husband.
My cutting is dictated by the drawn or painted marks I make on the lino. I cut around drawn or painted marks rather than cutting in a directly creative way. My interest lies in catching a feeling of spontaneity and I use a pencil, dip pen, chinagraph, and brushes, among other tools, to generate the marks I then replicate by precise cutting. I enjoy the irony that the more ephemeral the mark making appears in print, the more precise and painstaking my cutting needs to be.
I print with oil-based inks and a lot of transparent extenders. I often work with the ink totally transparent, about 2% colored ink to 98% extender. It isn't easy to work this way as the extender makes it tricky to get a smooth layer of ink, but I think the delicacy is worth the effort. I also often work with pale ink over dark ink and use the rollers to 'paint' mixes and bleeds of color as I layer. I regard the inking up as the more demanding and creative part of making a print. The cutting is meticulous and I love to cut, but the inking is more important for a successful outcome.
---
TOP Printmaking is an affiliate of several programs, meaning that if you purchase something through our links, the project may get a small percentage cut of the overall sale. For more information check our Affiliate disclosure. 

Create vibrant, lightfast prints using all types of relief plates
with Cranfield Traditional Relief Inks.
---
I use Fabriano Rosaspina paper, as a rule, sometimes BFK Rives, as I like a heavy paper that will withstand the printing. I sometimes work to fifteen or more layers, so the paper must be sturdy. My editions are small, perhaps ten or fifteen prints, and I seldom allow extra prints for testing. I like the jeopardy of working in this way and my editions with the odd numbers reflect casualties along the way.
---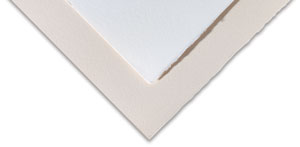 Rosaspina is a hidden jewel among printmaking papers!
It performs as well as 100% rag papers and is excellent for all printmaking techniques.
Its 60% cotton content and lack of external sizing give it a sumptuously soft surface ideal for deep etching and aquatint.
Or…
---
And now I present two important videos for those who want to know more about the technique I use:
---
Want to work the details like a pro?
---
And finally, know some prints I did recently and watch the video at the end to learn how my editions are presented:
---
This article was written by Laura Boswell and all images and videos copyright © lauraboswell 2019
You can get to know her better on her website and Facebook page.
---

Hope you enjoyed. If so, please leave a comment.
It's a great help for the project and an easy way to give us a helping hand. 😉
If you don't want to miss our next articles…