Review
Caligo Safe Wash Review – Easy to clean Printmaking Ink
Caligo Safe Wash Ink Review
This review applies to both:
– Cranfield Caligo Safe Wash Relief Ink
– Cranfield Caligo Safe Wash Etching Inks

Many printmakers (and the brand itself) claim that with the use of Caligo Safe Wash Inks, it is possible to achieve the best of both worlds – quality and texture of traditional oil-based inks, but with the ease of cleaning and safety of water-based ones.
We decided to try it out and do this review to help you decide whether to try this brand or not.
These inks are oil based, more precisely vegetable oil, but the cleaning is easy and safe, you just have to use warm water and soap.
We have tested it and we can confirm it.
But if so, it will not make sense for everyone to stop using traditional oil-based inks and start using these… not so fast.
First of all this review is impartial and we do not advocate the use of oil-based or water-based ink, nor do we say that one brand is better than another. We believe that there are products on the market that are more suited to a certain style of image or technique and probably do not meet the needs of other images and techniques. The art of printmaking is a very personal process and just as tools that fit a certain printmaker do not make sense to another, so do the inks.
Each one should experiment and find out which brand suits you best. Various factors (technique, paper, pressure, ambient temperature, etc.) influence the results and the same ink may not meet the need of two different artists … that's the beautiful part of this art!
Regarding Caligo Safe Wash, the sensation when stretching the ink and the results achieved in terms of color are quite satisfactory. The cleaning as previously said, is really easy, but if you have already used this ink you must have come across the same problem, the prints take forever drying.
Caligo Safe Wash Ink dries by oxidation and polymerization. The ink will dry more efficiently if printed on absorbent, acid-free paper and allowed drying in a warm, dry environment. The inks contain a very small amount of dryers, less than 1%.
We find many people talking about this ink as being Soy-based. This information is incorrect. There is in fact a brand of ink made from Soy (and we will talk about it in a next review) but it is not this one.
Caligo Safe Wash is made with renewable Linseed Oil. Linseed Oil is a vegetable oil made from the seeds of the Flax Plant. This Oil has been used for generations to make high quality printing inks and is considered free of Volatile Organic Compounds (V.O.C's) that can harm the environment.
During our research we found somewhere in a social network the phrase "Caligo … dries really, really slow! But cleans up really, really fast! "

Well … That's right!
Obviously the drying time is conditioned by the environment of our studio or workshop and we find many artists who live in drier and hot places (or have heaters constantly connected in their workplace), that can use this ink without feeling this difficulty.
Of course there is always a way around this situation, for example with the addition of cobalt dryer. Here we will enter into another discussion that has to do with the toxicity of the products used. If your goal in using these inks is to be 100% non-toxic… then you are in trouble.
Here is the warning for those who do not know. The cobalt dryer is toxic and should be used very carefully.
For us it is not problematic since only one drop of this product is necessary to make the drying time of this ink perfectly acceptable for those who work with several layers and need a faster drying.
Another thing everyone should do to lessen this problem is to take the excess ink out of the prints by pressing them against absorbent paper immediately after printing. This really helps a lot.
In our experience we conclude that:
– With Cobalt Dryer – Drying time: approximately 24 hours
– Without Cobalt Dryer – Drying time: approximately 4/5 days
In our view, the great difficulty for most printmakers using this ink is to put ideas into practice through a process of experimentation without taking weeks to get a result.
When making a color reduction, you can always plan multiple images at the same time to avoid doing nothing during the drying times. Again, it depends a lot on the planning of the image and the experience of each one, but for us, any product that will take more than 24 hours to let us continue a work should come with an alert – Attention, just for people extremely patient!
Or not… because the artist's objective can be exactly the result obtained with the use of non-dry layers. Wet on wet and wet on dry are two different and valid techniques and certainly have already been achieved, through many hours of experience, unique and perfectly controlled results using layers of wet ink, creating a blend and mix effect in colors.
Before defining your ink… you should define what type of printmaker you are.
Do you like to go with flow and get results almost immediately or can you plan your work, taking the time needed to get the result you want?
We leave a tip for those who already felt despair because their first layer of color never dried. Have you ever considered using various types of inks on your project? Did you know that there are artists achieving excellent results with the use of water-based inks on the first layers of an image and subsequent use of oil-based inks on the final layer?
What about the colors?
Caligo Safe Wash Ink can be transparent, semi-transparent, semi-opaque and opaque and this information should not be ignored when choosing which color to use. Otherwise, you may end up with a green layer when your intention was to print a blue on a yellow.
White is quite opaque and we advise you to always have some white on hand to mix with your colors when you are testing layer overlays. Overlapping colors tend to darken.
Mixing a little white can sometimes be the difference between an excellent result and a great frustration.
In addition to the Cobalt Dryer, there are different modifiers created to be used with this ink.
Caligo Safe Wash Inks are made with oil and so you will find that you can use many of the ink modifiers you would use with traditional oil-based inks.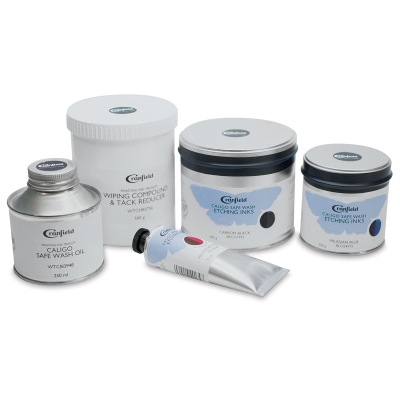 The only specialist modifier you may need is Caligo Safe Wash Oil – Add a little of this washable oil when you need to thin your inks a little.
PLEASE NOTE: if you add 'traditional' oils/varnishes you will begin to alter the construction of the Safe Wash Ink and this may make your Inks more difficult to wash up with just soap and water.
Caligo Safe Wash Extender – add this transparent ink when you need to reduce the strength and increase the transparency of your ink.
Caligo Wiping /Tack Reducer Compound – add a little Wiping Compound (or similar 'tack reducer') if you need to reduce tack and improve ink transfer. You may find this useful when you are printing onto more textured or dry papers or printing by hand.
To stiffen your inks, you can use Magnesium Carbonate (or Talc)
Caligo Safe Wash inks are oil-based and so you will find they feel stiffer when cold. Warming them up or working them with a pallet knife will make these inks feel looser and softer and easier to roll out and use.
Caligo Safe Wash inks carry the "AP Approved Product Seal" of the Art and Creative Materials Institute. This seal means that Safe Wash Inks have been tested to show they "contain no materials in sufficient quantities to be toxic or injurious to humans or to cause acute or chronic health problems"
Related to the environmental issue, another thing to keep in mind is that although these inks are essentially non-toxic, there may be traces of heavy metals in some pigments that may build up over time in the soil and no tests have been performed for use of these inks with food. We have no intentions related to this type of use but we want to make it clear to our followers that may have.
After several experiments, we conclude that the level of definition received from extremely thin lines is optimal and the color saturation and vibration is excellent, what makes this brand an excellent alternative for all types of work in the most varied printmaking techniques.
This ink works very well both in manual prints (in the case of reliefs) and with press use.
Another advice that we leave here is for you to buy this ink in tubes and not cans (unless your project involves a large number of prints or you have several projects to be carried out), reducing this way the waste and the errors that may arise due to the use of small pieces of dry ink in your work. Any ink exposed to the air will oxidize and polymerize (the manufacturer recommends putting a quick puff of WD40 when closing the can – oily film helps prevent oxidation).
We hope this review helps you when choosing to try this ink. If you already did, leave a comment with your opinion.
---
TOP Printmaking is an affiliate of several programs, meaning that if you purchase something through our links, the project may get a small percentage cut of the overall sale. For more information check our Affiliate disclosure.     
Where to buy online:
If you are in the United States, Dick Blick Art Materials is undoubtedly a good choice.
If you are in Europe, we recommend consulting Jackson's Art Supplies website.
You can also look at Amazon and eBay and see what they have over there.
---

Hope you enjoyed. If so, please leave a comment.
It's a great help for the project and an easy way to give us a helping hand. 😉
If you don't want to miss our next articles…