Artists
Looking Through – A project of Conjoint Prints
After being invited by the TOP Printmaking team, I presented the proposal to write about two projects.
I am very grateful for the opportunity and I congratulate them for the magnificent work they are doing keeping printmaking alive.
"Looking Through"
This is a series of conjoint prints. Each pair of them is attached and presented as different prints.

They are saying something about being attached and how at a glance they are 'as one' but actually are close but separate 'halves'. Although abstract, my work always has a human presence and points to themes about experiences of being alive such as attachment/loss, time, memory etc., the experiences of relationships, psychologically nuanced spaces.
Printmaking is a useful metaphor, leaving a trace, revealing evidence and an impression of something having been and now gone, of course.
In this series, the images are printed onto Fabriano Rosaspina Ivory paper, 280 gms, and I am using Charbonnel etching inks – a combination of Paynes Grey and Carbon Black with Sienna – all oil based and each inked-up slightly differently, purposefully. I don't want them to be the same as there is not an edition as such.
---
TOP Printmaking is an affiliate of several programs, meaning that if you purchase something through our links, the project may get a small percentage cut of the overall sale. For more information check our Affiliate disclosure.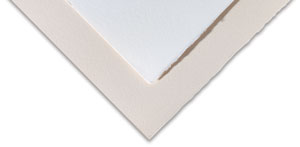 Rosaspina is a hidden jewel among printmaking papers!
It performs as well as 100% rag papers and is excellent for all printmaking techniques.
Its 60% cotton content and lack of external sizing give it a sumptuously soft surface ideal for deep etching and aquatint.
Or…
---
These 'double prints' are all made from a single plate.
The plate is Aluminum, open etched in Copper Sulfate, with a large area protected from the copper sulfate by stop-out varnish. Lines are scratched through the varnish which also allows the copper sulfate to bite line marks into the surface of the aluminum. In addition, there is also an element of drypoint, as the aluminum is soft enough to scratch into without using a mordant. The area without stop-out varnish is bitten deeply and spends a long time in the copper sulfate – the length of time will depend on the strength of the mordant and I took it out of and washed the plate in cold water several times to check the depth of the bite until it looked right, I wanted a deep bite to hold a large amount of ink.
The plate is inked-up each time similarly- but not the same, I allow areas of color randomly at each take. It is wiped in the usual way, leaving ink in the lines and a substantial amount in the roughly open-bitten areas, the plate takes a considerable amount of time to ink-up and wipes for that reason. The depth of the texture on the plate caused by the open-bite is accommodated by the thickness of the aluminum plate, I tend to use fairly thick aluminum. Each print is hand-pulled through the etching press in the usual way.
I then arrange the 6 slightly different prints into pairs, reversing one in each pair, this creates a sense of objects and dark space, in terms of imagery, which I like, I then arrange them to say something about the themes mentioned above. I did not plan to put these into pairs as I allow the process to suggest to me what might happen next, I like to take an experimental stance starting with ideas and themes that float around in my head and develop through engaging with the process, the conversation will continue in the next piece of work until it's time to start a new conversation.
Want to know my other project?
---
This article was written by Theresa Taylor and all images copyright © theresataylor 2019
You can get to know her better on her Facebook.
---

Hope you enjoyed. If so, please leave a comment.
It's a great help for the project and an easy way to give us a helping hand. 😉
If you don't want to miss our next articles…