Lithography Technique
My name is Jelena Petrovic. I graduated from the Faculty of Fine Arts in Belgrade, Serbia, and got my Ph.D. degree in 2017. I'm a printmaker, and I primarily work with the technique of stone lithography. Unlike other techniques, stone lithography allows direct drawing on the matrix. It requires focus, thoughtfulness, calmness, maximal discipline and graduality from the artist. It absorbs and shapes its creator. So, let me introduce you with this wonderful technique and my own creative process.
Lithography is a printmaking technique, discovered in 1796 by Alois Senefelder. According to some other artists, my colleagues, and my own experience, this is the most difficult (and most expensive) printmaking technique. The term lithography originally came from Greek words lithos, which means stone, and graphein – to write. The process itself is based on a chemical process and repulsion of grease and water.
The traditional method, the method I used in my project, includes a polished slab of limestone as a matrix. Modern lithography includes photolithography, transfer lithography, etc. Contrary to the traditional method, modern lithography replaced limestone matrix with cheaper materials.
"Lithography, as a printing method, corresponded to an engaging idea of my doctoral art project, since the (litho) posters were originally used for propaganda. (…). Lithography enables direct and expressive drawing process (far more than other printing techniques) and then its preservation and further reproduction."


Petrovic, Jelena, Filozofija egzistencijalizma u angažovanom grafičkom izrazu – izložba litografija, Belgrade, 2017, pages 15–16.
These are the general reasons why I choose it as a medium of my self-expression and experimentation.
The drawing process involves a greasy medium: crayons, tusche, etc. Once the image is finished, the surface of limestone should be covered with colophony, talc and solution of Arabic gum in water. The printing process follows the etching procedure. During this (printing process), limestone should be always moistened with water. Parts of the limestone covered with the greasy medium will receive the printing ink, while the blank areas will repel it, due to this film of water. Art paper should be placed on top of the limestone surface and then run through the printing press. After the whole process is done, the image is transferred to the paper.
My project is conceived as visual and theoretical research. Seventeen lithographs from this series were created between 2012–2015, during my Ph.D. studies at the Faculty of Fine Arts in Belgrade. Those are divided into two main groups: medium and large format prints.
The first step was to polish the stone carefully with sand and water until the surface of the plate is cleaned and leveled. I used different grains of sand, according to the nature of my drawings and wished effect. First (background) layers were printed from a stone surface treated with coarser sand, while the main, delicate drawings requested stone surface grained with fine granulated sand.
I used a grey, porous Bavarian limestone as a support for my drawings. They were made in two ways: by adding or subtracting color. The first group of drawings on the stone was made by applying black crayon litho ink, without intermediaries, using only fingers and palms. The second group of drawings was created by subtracting the colored surface of the limestone, with needles or scraper.
It is important to always keep in mind that the image on a limestone must be in inverse to the original design because the impression will be the reversed image of the drawing on stone. During the drawing process, I had to make sure that no greasy substances on my fingers, palms, etc., come in contact with the stone surface, or to breathe upon it. The choice of the printing paper and its correct preparation were very important, too. I used Fabriano Rosaspina art paper: 60% Cotton, Ivory, 220 g/m2. After cutting, the paper is stretched by being run through the printing press.
---
TOP Printmaking is an affiliate of several programs, meaning that if you purchase something through our links, the project may get a small percentage cut of the overall sale. For more information check our Affiliate disclosure.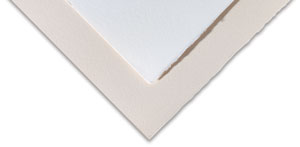 Rosaspina is a hidden jewel among printmaking papers!
It performs as well as 100% rag papers and is excellent for all printmaking techniques.
Its 60% cotton content and lack of external sizing give it a sumptuously soft surface ideal for deep etching and aquatint.
Or…
---

The prints were created as a three or four color lithographs. Each color was printed from a different matrix. The duality in the drawing process (by adding or subtracting the color) indicates the key concepts of the work: identity, identification, vulnerability, fear, etc. The metaphorical identification with a fingerprint is symbolically contrasted to the idea of alienation and disintegration of society and its individuals.
This series of works started with medium format prints (50×70 cm). The format of the works varied in further work until it reached monumental dimensions of two square meters. The large format prints were created by joining 4-8 smaller parts (50×50 cm). Connecting four to eight separate pieces into one single work required extensive preliminary preparations. Large format prints, connected as diptychs, form three entities: Alienation, Hopelessness, and Fear.
"The work on the doctoral art project Philosophy of existentialism in an engaged graphic form – an exhibition of lithographs consists of analysis and understanding of the visual and verbal language used by existentialist artists and writers. The project had several goals, but the main aim was to prove the existence of this language and the hypotheses that its universality is based on the unconscious. The visualization of existentialist language in the graphic art form is achieved through the formal elements of works, the choice of themes and motives. (…). Works, created as the result of research of graphic media limits and possibilities, interdisciplinary approach to the problem and implementation of knowledge and methods from different disciplines, are linked into a unique drama-visual-aesthetic performance."


Petrovic, Jelena, Filozofija egzistencijalizma u angažovanom grafičkom izrazu – izložba litografija, Belgrade, 2017, p. 1.
---
Eagerly awaited by artists and fine art printers everywhere, this comprehensive book created by the director and staff of the Tamarind Institute of Lithography at the University of New Mexico, Albuquerque, covers all facets of fine art lithography, from setting up a workshop of any size to pulling a successful edition.
This extraordinary manual will be an invaluable reference for students of the medium and a treasured resource in lithography workshops around the world for years to come.
---
I am glad I have had the opportunity to share my experience and present my recent project.
I hope that you have enjoyed this article and that some of you will be interested in trying this wonderful technique.
---
This article was written by Jelena Petrovic and all images copyright © jelenapetrovic 2019
You can get to know her on her Behance page.
You can also leave comments below, she will respond as soon as possible.
---

Hope you enjoyed. If so, please leave a comment.
It's a great help for the project and an easy way to give us a helping hand. 😉
If you don't want to miss our next articles…