The Girl, The Moon & The Printmaking
My name is Aleksandra Ronewicz, I'm an interior designer but what engages me mostly is painting and graphic arts (mostly Lino Block Prints).
A few years ago, while watching the works of other artists, I discovered that the ones that make the biggest impression on me were made in the linocut technique. When I started to get to know the creative process that accompanied this kind of printmaking, it turned out that the linocut combines art and a multitude of inspirations with crafts. As a painter – I work fast, but the lino-cutting requires me to clear my mind, act without haste and develop mindfulness in working on details.
This mix of artistry and precise, manual work fascinated me.
Three years ago I started my journey with printmaking and based on the example of a set of my prints, I will tell you a bit about the way I work.
The leitmotif of this "Moon Girls" series is the Woman, whom I wanted to present in a less obvious way, combining her with the Moon, whose energy for centuries was associated with the mystery of the female inner life. The moon, its invisible influence "pulsating" in the rhythm of the female body, the light of the full moon, ebb and flow, Luna and her nocturnal journey through the sky …
Lots of inspiration, right? 😉
The number of motifs and meanings that accompany this theme is plentiful and I never assumed that I would end up with one print. And, about eight months later, I have completed five linocuts, another "moon girls" come to inspire my imagination and I'm still not sure if the fifth one is the last.
So… how does my work on the "Moon Girls" look like?
As it was an extended period of time and a long process, it combined with my search for a set of materials, methods, and tools that would best suit my needs.
In the case of this series, photography was a big support for me – I wanted to accurately reproduce the female body, to capture a specific pose or gesture. So I organized a mini photo session in my home, and after preparing the right frame, I put a sketch on paper and transferred it from paper to linoleum. (I cover the back of the page with graphite of a soft pencil, I glue it on lino with ordinary adhesive tape and trace the lines of my sketch).
Looking at all my lino blocks today, I noticed that each of the "moon girls" was cut out on a different type of linoleum.
The first one I made using the soft cut – light cream color makes it easier to sketch directly on this type of lino, and its softness makes cutting easier. The prints from this block were printed by hand, I was using a printing baren and a metal spoon. Then, however, it turned out that this material is not suitable for printing using the press (I have a small X-cut X-Press in my studio). Well, I did not get good quality prints when this kind of lino goes through the press. Softcut is squeezed under its pressure and that's why the prints are blurred and uneven.
---
TOP Printmaking is an affiliate of several programs, meaning that if you purchase something through our links, the project may get a small percentage cut of the overall sale. For more information check our Affiliate disclosure.   
Xcut Xpress A4 Die-Cutting Machine
---
Searching for other solutions and wanting to facilitate and speed up the printing process, I tried other types of linoleum.
Dark grey linoleum is the most reminiscent of soft cut, it is easy to cut but its color makes it difficult to sketch the pattern. Traditional, hard lino is excellent if you want tough, durable material that will not get weakened by repeated printing on the press. Cutting the designed pattern requires greater skill and well-sharpened chisels, but thanks to the hardness of this lino, precise lines can be obtained. Recently, I have used brown or gray linoleum (with a textile undercoat), which in my opinion is a compromise between a soft cut and a traditional, hard lino. This material is pleasant and quite easy to work with (however, you have to be careful, because the edges of the cuts may brittle) and at the same time gives good results in both: hand printing and with a press.
---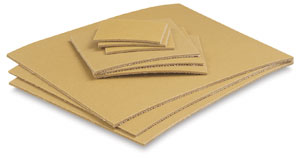 Blick Golden-Cut Linoleum
It's softer and easier to carve — but maintains all of the qualities of traditional "Battleship" linoleum.
The finely textured surface produces sharp, clear prints and won't distort when subjected to high pressure in the printmaking press.
---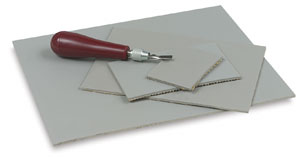 Battleship Gray Linoleum
Produces finely detailed, sharp, clear prints. Easy to carve.
And if you're in Europe …
---
At the beginning of my journey with linocut, I used water-based inks. I know that there are professional artists who achieve amazing results using this type of inks and this choice seemed also obvious to the beginner fan of linocutting. However, I had a lot of trouble with "mastering" the water-based inks, I tried paints from several companies, but the printing effects were very uneven, one print out of ten had a satisfactory quality. Professional, oil-based inks seemed too demanding, cleaning tools with oil, very long drying time and high price – I was not ready for such a challenge. 😉
It turned out that a great compromise is Charbonnel Aqua Wash inks – in my opinion, it's a great combination of high-quality prints with very easy use. The inks are oil-based, but at the same time they are water-washable; until they dry out, they can easily be washed off your tools with warm water and soap.
When it comes to gouges – it's worth to try out different types of tools. A real precision chisel costs a lot, but I think that even a simple, basic set for beginners gives really good results. The set I currently use consists of chisels from various manufacturers, but I still work with the Essdee kit for beginners.
---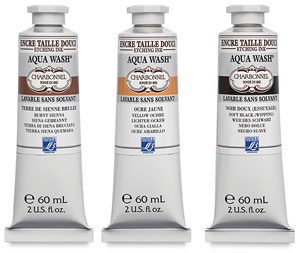 Charbonnel Aqua Wash Etching Inks
Formulated especially for artists and students working in groups, Charbonnel Aqua Wash Inks clean up without solvents and are non-toxic, odorless, and easy to wipe.
They allow work similar to traditional solvent-based inks.
---
Essdee Lino Cutting Tools
The high-quality cutters are among the best available, yielding fine cut lines and low cutting effort for producing excellent results.
---
I believe that it's worth spending some time choosing the right paper. Sometimes I'm surprised how printing on different papers changes the mood or reception of the pattern.
The weight of the paper is very important, especially when we print by hand, without a press. It is much easier to make a good print when the paper is thinner, even better when the paper "grabs" the ink and during printing we see through the sheet which parts of the pattern have already been plotted and which have not yet. For me, paper with a weight of 120-150 g / m2 or "vintage" paper ( taken from books bought in an antique shop) are the best choice for hand printing.
Thick paper (with a weight of 200 g / m2 and more), and even hand-made paper is great for printing on the press. You can then get an additional embossing effect, making the print even more attractive.
As you can see – the printmaker's activity is mainly searching. We are still looking – for inspiration, our own style, the technique which will best reflect our ideas and finally, the right set of tools. The beauty of linocut lies in this unknown: some part of the final effects of your work cannot be predicted. Different kind of paper, different ink, even a different amount of paint applied on the block give a result that may surprise even its author.
Each linocut maker uses chisels, linoleum, ink, and yet the ultimately worked out method of work is unique, like a fingerprint, as the record of our path from the idea to the final print …
I hope that these few basic information will encourage or inspire you to try linocutting.
If you would like to see my other works, printed & painted, please check out my Instagram.
Some of my prints can be bought here: www.etsy.com/shop/studioAtmosfera
Have a nice printing! 🙂
---
This article was written by Aleksandra Ronewicz and all images copyright © aleksandraronewicz 2019
You can leave comments below, she will respond as soon as possible.
---

Hope you enjoyed. If so, please leave a comment.
It's a great help for the project and an easy way to give us a helping hand. 😉
If you don't want to miss our next articles…