Artists
Large Size Printing – Victor Femenias Big Prints
Santiago. Chile, Intaglio, 1960
Large Size Printing – Victor Femenias BIG prints
HOW AN OLD TRADITIONAL PRINTMAKING CONCEPT BECAME CONTEMPORARY.
In order to understand how the big prints included in this article came to be, we should mention the author's cultural background. Chile was like most very young south Latin-American countries isolated and far-fetched from any international cultural and artistic development not to mention others during the last century and until the 60s decade. In those years the first art gallery appeared and visual arts were taught in very small art schools in the two main universities located exclusively in the capital city, Santiago. Therefore, most people devoted to the visual arts had no means to appreciate and relish with real art unless traveling abroad to visit museums and art galleries, especially to Europe, which culture Chile has been longing for since the beginning of its history. Before that decade two or three painters went to study in Europe and at their return, they secretly kept the monopoly of their newly acquired knowledge. This petty cultural environment forced art students to an "art reproduction culture" which, in turns, made believable that painting, drawings, and prints had to have the size of a good book page. Such naive notion, in addition to the fact that most famous prints such as Goya's, Durer's, Rembrandt's among others, also had a book page size and were printed exclusively in black and white, lead to the belief that prints, in order to be such, had to necessarily be small and in black and white. Moreover, historically printmaking was used during the last two centuries as a reproductive system for book illustrations. This prejudice is still active even though Chile is no longer an underdeveloped country, and as awkward it may sound, it forms the backbone of the traditional printmaking attitude which at the same time is also its own mystique.
Iowa, 1965, Intaglio, United States
I underwent this traditional printmaking formation as an adolescent (16 till 20 years old) with a first special student grant at the University of Chile art school. But in 1963 I was awarded a Fulbright grant, also as a special student since I was only 20 years old, to study black and white metal engraving or Intaglio at the State University of Iowa with Mr. Mauricio Lasanzky for two years. There I became soaked, saturated and exhausted with black monochromatic copper engraving or Intaglio to such an extent that I haven't been interested in doing any until a year ago when I tried to melancholically recover that good old printmaking mystique which I thought I had lost after about 50 years of research in color printing in different methods and their techniques. But it was not so, luckily that mystique was still there, embedded and lying dormant in my subconscious. During this first stay in the United States, I sacredly visited every weekend Chicago's Art Institute where I dove into the Drawings and Print Collection for many hours trying to satisfy my everlasting thirst for real prints under the supervision and approval of its then curator Mr. Harold Joachim. All the prints in the collection went through my hands. Likewise, in a third grant in New York at the Pratt Graphic Center for Contemporary Printmaking to do research in color metal engraving with heavy embossment, I visited, every weekend and for almost three years, all the city's Museums and became acquainted with large sizes full colored prints such as Robert Rauschenberg, Lasanzky himself and many others. Moreover, in a visit to San Francisco I discovered the Museum of Asian Arts and I was stunned by the work of the "ink spreaders" Zen masters of the late Sung dynasty from China becoming one of my main references which also enabled me to understand the work of the painters of the New York Abstract Expressionist group.
In 1970, I went to teach printmaking at the Catholic University in Lima, Peru. In the art school, there was only a small metal engraving handmade press and I had to create the lithographic workshop with equipment from old lithographic commercial presses that had been displaced by the then newly developed offset printing techniques and I started to work in color lithography with two old regular sized Krause presses. These images belong to that period and they were done with methods and techniques that printers have never dream of not even in their wildest printmaking nightmares.
Peru has wonderful museums and at the Anthropological Museum, I found Peruvian primitive art containing the impact, power, spontaneity and monumentally I was searching for becoming my second reference for what I wanted to do since my Iowa period where I discovered for the first time that prints could be very large.
Traditionally there are four main groups of printmaking methods and those are metal engraving or Intaglio, lithography, woodblock or woodcut and serigraphy or screen printing. Nowadays we must add the electro graphical and digital methods. All and each one of them is constituted by several and some by many techniques including photographic systems. Likewise, all and each one of them can be combined with another method, for example, lithography with serigraphy and so forth.
This lithograph is called "DAWN" and was printed on a 120×100 cm sheet of heavy Canson paper after 15 color successive lithographic impressions on 4 lithographic stones in 1976 in Lima. Peru. But the stones and the Krause printing press didn't give me those dimensions; therefore I had to invent a system to print such size. In the attached drawing you may find that the sheet of paper was rolled up and inserted in a tube with a lengthwise slot so that half of the sheet of paper could be printed while the other half remained protected within the cardboard tube. This tube would slide besides the stone through the empty space between the frame of the press and the stone. When printing the second half the already printed first area would be rolled into a second tube once the ink was thoroughly dried.
Of course, the printing was not always successful for very often the whole arrangement would get chocked or slid due to an excessive inking or pressure and thus spoiling or destroying a whole copy. The image was done in two lithographic stones that allowed a 90 x 50 cm. printing surface. The first part of the image rendered 22 copies though in later impressions too many were completely spoiled leaving a limited edition of 6 copies. However, this experience prepared me for the next enterprise. I had a printing method that could be further developed in the next bigger print.
This print combines lithography and serigraphy and is called "THE SCREAM" and it was also carried out on a 90x 200 cm sheet of heavy Canson paper. The black and white section was drawn on three different very large size lithographic stones with a 90×70 cm printing surface. The printing method was the same as described above with the difference that too many copies were damaged during the process since I could not moist such big sheets of paper and they were printed dry. The top section of the mouth was printed many times because I knew many copies were going to be discarded. The second part was printed on 12 copies and there were no problems with the bottom section but when it came to the red silkscreen impression I only selected 6 copies for the other remaining 6 were smeared all over. Besides the printing process, another difficulty arose with these large sheets of paper: they had to be lifted and detached from the already printed image from the lithographic stone. These large sheets of paper had to be handled very carefully avoiding any wrinkling after such hardships. Hence, and somehow I came out with a very simple system described in the following drawing.
The next lithography, woodcut and serigraphy print was called "WITH A BIT OF GEOGRAPHY" and was a 150 x 200 cm print.
Firstly the grayish stroke was printed rendering 26 very good prints. Then the newspaper section was printed with silkscreen and photo silkscreen and only 20 prints were left. Later was the woodcut black stroke turn and only 15 prints were left. Now, I was facing an impossible commitment. The National Geographic map had to be printed with lithography and again there was no press that size to do such a thing. Somehow I invented a relief printing method with lithographic stones. I know that what I am to describe may create an uproar amongst many printmakers but I have become accustomed to disapproval. When the image is prepared for printing it must be etched with a mild solution of Arabic gum and nitric acid. But if the solution is strong enough and the stone a soft one there will be as a result of a relief area where the greasy drawing was deposited, just like a woodblock which can be hand printed with a Japanese baren or a wooden spoon or the like as most printmakers know. I was fully aware that this method was against every traditional criterion concerning lithography and transgressing all the lithographic rules but, for me, that has never been the concern. Finally, the red woodblock downwards stroke was added with a single impression. I must state that the National Geographic's map of China itself took over 36 impressions since it was copied from an original in small lithographic stones. After all this troublesome and struggling process only 5 huge copies were left.
---
TOP Printmaking is an affiliate of several programs, meaning that if you purchase something through our links, the project may get a small percentage cut of the overall sale. For more information check our Affiliate disclosure.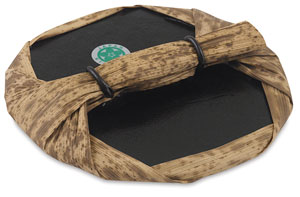 Yasutomo Bamboo Baren
This smooth, light rubbing pad is made of bamboo bark.
Used for woodblock printing, the strong grain of its tough surface allows the artist to convey pressure firmly and efficiently to the paper.
---
Comparatively "THE BIG BLUE" was a very easy to print woodcut. It was, originally, a 150×230 cm image always printed on a very heavy Canson paper, slightly moist and the matrix was a full-size board of plywood. Due to its size, I could only print two copies a day having an unlimited number of copies since I have edited this woodcut three times in different cities and countries."
"TRANSFIGURED NIGHT". This reductive woodblock print belongs to my latest 2018 production and it was hand printed with a water-based solution containing a Prussian blue and a Cobalt blue color on a 100 x 120 cm heavy Fabriano Rosaspina paper after six reductive impressions. The edition has 10 copies.
As a conclusion, I must state that I have been a draughtsman since childhood although at 13 years old I decided to become an artist and I have been faithful to that commitment ever since despite what else. Thus, drawing has been the program and printmaking and painting the applications if you allow me the metaphor. I made prints only if necessary in other words if I had something to say and I chose the printmaking methods or their combinations that best fit those images. The media is the message. I am incapable to make prints just for the sake of it and also don't know how to copy myself. After almost 60 years addicted and devoted to printmaking I have come to realize that the outcome is not the main issue but only a byproduct, what I am really addicted to is the creative process itself no matter how complex, labor-intensive and sometimes deceitful adventure it may be.
How have I enjoyed drawing and creating large size prints throughout my life!!
---
This article was written by Victor Femenias and all images copyright © victorfemenias 2019
You can get to know him on his Facebook page.

You can also leave comments below, he will respond as soon as possible.
---
We've found some excellent paper references for large format printing in different online stores:
STONEHENGE: FINE ART PAPER: ROLL 50INX10YDS: 250GSM WHITE @ JACKSON'S ART SUPPLIES
Stonehenge Paper 50″ × 10 yd Roll 90 lb White (also available in other colors) @ UTRECHT ART SUPPLIES
BFK Rives Printmaking Papers 42″ × 360″ Roll 300 gsm White @ DICK BLICK ART MATERIAL'S
Arches Cover 300 gram 42″ x 10 Yard Roll – White @ AMAZON
---

Hope you enjoyed. If so, please leave a comment.
It's a great help for the project and an easy way to give us a helping hand. 😉
If you don't want to miss our next articles…