Techniques
Drypoint How to – A Safer Alternative to Etching
Drypoint How to – A Safer Alternative to Etching
by Mel Kolstad
Drypoint, like etching, mezzotint, or solar plate printing, is an intaglio method of printmaking; it is the opposite of those methods done in relief.
There are many ways of utilizing the drypoint method, and those methods will be discussed here.
But first, here is a list of items used during the process:
Plexiglass (Perspex) or soft metal, such as copper
Mark-making items (sandpaper, carborundum, engravers' tools, acetone)
Intaglio ink, such as Akua or Charbonnel
Good quality paper, like Rives BFK or Arches
Tarlatan
Printing Press
---
TOP Printmaking is an affiliate of several programs, meaning that if you purchase something through our links, the project may get a small percentage cut of the overall sale. For more information check our Affiliate disclosure.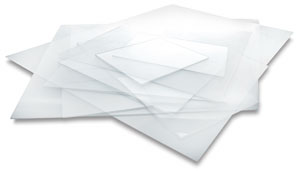 Acrylic Clear Sheets
Acrylic sheets are a great alternative to fragile glass. These pre-cut, ideally sized sheets of .06″ thick acrylic have a non-glare finish on one side.
Great for Drypoint and other printmaking techniques.
---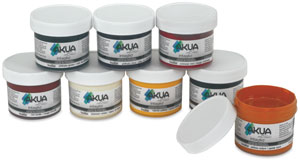 Akua Intaglio Inks
Akua Intaglio soy-based permanent inks are a non-toxic, environmentally safe way to do printmaking.
Formatted for intaglio, they can also be applied with a brayer for relief, monotype, and collagraph printmaking techniques.
Akua ink has a rich, thick consistency with minimal dryer and cleans up easily with soap and water.
Print from plastic, wood, linoleum, or metal plates. You don't need any special ventilation, toxic solvents, or fireproof containers.
---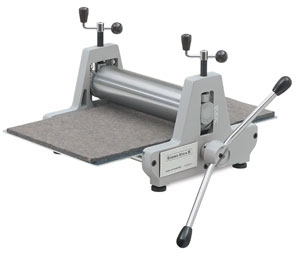 Blick Econo Etch Model II Press
Dick Blick's Econo Etch Model II is an excellent choice for the beginning printmaker or for the professional who needs an auxiliary press for demonstrations, art fairs, and workshops.
The press is easy to work and is suitable for etching, collagraphy, paper plate lithography, unmounted linoleum block printing, and embossing.
It's perfect for smaller prints and greeting cards.
---
Getting started:
Plexiglass or other surface is cut to size. The edges of the matrix are sanded and beveled to give a smooth edge when printing. The surface must be completely clean and smooth, free of any scratches (even the most minute scratch will show up during printing).
As with nearly all printmaking techniques (save serigraphy), the image used to create the plate must be drawn or printed backward, to print "correctly". Some people draw right on the Plexiglass and then flip the piece over and scratch, but some use a drawing or computer-generated photo or image.
That image is then reversed, printed out, and placed directly underneath the Plexiglass for the printmaker to use as a guide while creating the plate.
There are many ways to get good shading when creating your image – sandpaper and acetone are two good ones. These are readily available and cost very little. Acetone can be found in any nail polish remover and a bottle will last a good long time. Fine grit sandpaper works beautifully.
One of the biggest "plusses" to drypoint vs. other intaglio methods is that it uses no harsh or toxic chemicals! If the printmaking studio is small or there is no access to proper ventilation, drypoint isn't only preferable; it's downright necessary.
---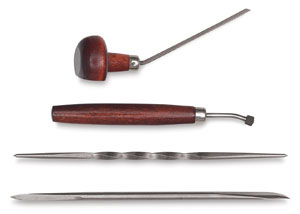 Intaglio Etching Sets
4 Piece Roulette Set
This includes a scraper/burnisher, roulette dot #85, a twisted double point scribe, and a burin square medium.
---
6 Piece Etching Set
This set includes a small 6¾" long carving burnisher, a twisted double point scribe, a small scraper, an elliptic tint medium, a 4¾" long burin square medium, and a small burin lozenge.
---
"Etching" into your plate:
Once the image is where it should be on the copper or Plexiglass, the "etching" begins. One should not confuse drypoint with the etching process, as an etching uses chemicals to "etch" the image into the surface. Printmakers seem to use many verbs to describe the process of creating the drypoint image on the plate – "etching", scratching, engraving – and there are as many disagreements about these terms. Whatever the "correct" term is, "scratching" will be used here.
It is a good idea to invest in some good ergonomic tools, as the "scratching" process can take a toll on one's hands. Many websites have these tools available.
One of the advantages of drypoint is the instant gratification of seeing the image appear on your plate. It is a perfect technique for fine line drawings and illustrations.
The plate is soft enough so that you can scratch fairly easily – even the lightest scratch will show up. You can vary line widths with different engraving tools – some even use potters' tools or dental tools for this effect. This is where you will also see sandpaper or acetone work on your plate – the plate will appear cloudy where these tools are applied, and those surfaces will show up as colored, but not as dark as the lines.
Once you have completed scratching your plate, the inking process can begin.
Inking process:
Because the ink will be filling the fine lines and shaded areas that have just been scratched into the plate, the ink needs to be "pushed" into these areas. One easy way to do this is to take a small bit of mat board or cardboard, dip it into the intaglio ink, and scrape it across the surface of the plate, thereby ensuring the ink will fill the spaces.
It is important to make sure all lines are filled in this manner. Some people use a soft rubber brayer, but more pressure is needed to apply the ink.
The next step is to use a tarlatan, which is a piece of mesh-like cloth, to wipe the surface of the plate. It may seem counter-intuitive to wipe the surface since the ink had just been pushed into the line work. But the step keeps the ink off the unscratched, clean surfaces – those which will show up "clear" (i.e., the same color as the paper) when printing. (Note that this is completely opposite of what happens when relief printing is done.) The tarlatan is held, bunched up but flat, in between the index finger and the thumb, to form and is used in a clockwise motion.
Some printmakers utilize tissue paper, cotton swabs, or paper towels as extra security that the clear areas are perfectly clear. It is also helpful, when using Plexiglass (as opposed to copper, which isn't transparent), to hold it up to the light to see if it is indeed "clean". It is also very important to wipe the sides and back of the plate – the inking process with drypoint can be very messy indeed and ink will quite often wind up on the sides and back of the plate. If left, the ink will show up as a border of sorts and may ruin the quality of the print. (Other times, the ink is purposely left on
the sides for a "border" effect.)
Once the ink is where it needs to be on the plate, carefully, with very clean hands, place the plate on the press. It also a good idea to make sure the press bed is completely clean, too.
Paper Preparation:
When creating drypoint prints, it is imperative that the paper being used is soaked beforehand. Unless the print is unusually large, five to twenty minutes is sufficient. A good, thick paper, like Rives BFK or Arches, is preferable, and a border of a half-inch to an inch is typical. Therefore, if the plate is 6X6 inches, the paper should be torn (not cut) to a 7×7 or even 8×8" size.
---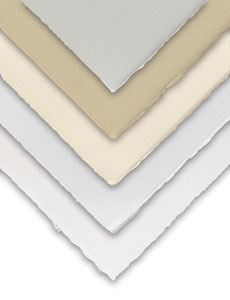 BFK Rives Printmaking Papers
This very popular, fine printmaking paper is mouldmade in France and has a smooth, absorbent surface. Rives Papers, made of 100% cotton, is acid-free, soft-sized, and buffered.
And if you're in Europe …
---

Once the paper has been soaked for the desired time, it is taken out of its water bath and placed on a clean towel. The towel is then folded over and excess water is removed from the paper until just damp. Dampening the paper opens up its fibers and allows more ink to be released. It also creates a very pleasing embossing from the plate itself, making the image appear "matted" in a frame.
Once the paper has been dried to its desired effect, it is placed atop the plate on the press, making sure registration is correct.
Registration:
Proper registration is important when making prints – it allows the finished print to be straight on the paper. Having a crooked print on paper, especially when there is not much border allowance, can all but ruin its chances to be framed.
There are many ways to register the plate with the paper – creating masking tape borders for both the plate and the paper is one. Another easy one is to leave a self-healing mat with a grid right on the press, which ensures proper registration without extra marks on the press. Just make sure to adjust the press to accommodate the mat.
Printing:
Once the paper is properly registered on the plate, it is time to print. Throughout the process, it is extremely important to have clean hands, but the printing process is the most important. It only takes one smudge to ruin a print. A good linseed oil soap is an indispensable tool in a printmaking studio.
After the paper is placed atop the plate, a barrier paper should be applied on top of the printing paper. Good papers for this use are deli papers, butcher paper, or parchment – something with a little bit of water resistance. It is also very important that this top paper be free of ANY wrinkles, as the wet printing paper will pick these up when going through the press.
Once the barrier paper is applied and free of wrinkles, slowly turn the wheel or crank so that the press blankets fall on the paper. Then, run through the press forward, then back, giving it two passes through the press. The extreme pressure of the press will ensure a strong print.
Once the print has passed through the press, slowly lift off the press blankets, carefully lift the barrier paper off the printing paper, and then very carefully, lift the printing paper from the plate.
Other "Finishing" Techniques:
After the print is dry, the printmaker may decide to incorporate other media into the print. Watercolor is a very popular medium, and so is chalk pastel. But crayon, markers, collage, embossing powders – all of these can enhance the print beautifully. It's fun to experiment with various media with your drypoints!
VOILA! Your print is complete. I hope you had fun! Drypoint is a very satisfying printing technique – you can get so much detail from not a lot of work.
I hope these directions inspired you to give drypoint a try. If you do, I would love to see your work!
Email me at mel@kolstad.net or visit my website, melkolstad.com!
---
This article was written by Mel Kolstad and all images copyright © melkolstad 2019
You can leave comments below, she will respond as soon as possible.
---

Hope you enjoyed. If so, please leave a comment.
It's a great help for the project and an easy way to give us a helping hand. 😉
If you don't want to miss our next articles…